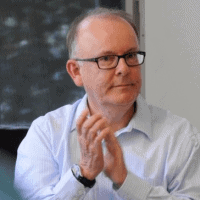 Dr Nina Hood asks University of Auckland Senior Lecturer Dr Graham McPhail to talk to us about some of the key ideas he raised in his chapter – Knowledge and the Curriculum –  in our On Knowledge report. Here is what he had to say.
Your chapter focuses on knowledge and the curriculum. What do you mean by knowledge in this instance?
By knowledge I mean the specialised knowledge that we generally only have access to at school. It is a special type of knowledge because it is structured differently from the knowledge we learn in our everyday lives. Access to this structure enhances how our brain develops and changes the way we see the world.
Why is knowledge so important in teaching and learning / for schools?
Well, we go to school to learn how to think and how to 'be in the world' and to learn about the things that our society thinks are worth passing on. We do this primarily through coming into contact with great funds of knowledge developed over time, and ideally all children should have access to the world's funds of knowledge. Kid's don't have these funds inside their heads heads automatically! For example, my family wasn't interested in classical music but I came into contact with it 'as of right' as it were at my public school in Palmerston North in the 1970s. It was a part of my cultural heritage that I didn't know anything about at that time and by coming into contact with it at school – it changed my life. I didn't realise it would become 'relevant' to me and thank goodness someone hadn't decided it was knowledge that wasn't seen as relevant as then it might not have been in the curriculum and I would never have met it. There is such a danger today with this ideology of relevance.
Why do you think there is such a focus on pedagogy at the moment at the expense of curriculum knowledge?
I think cultural and political changes and the influence of technology have all changed the way in which knowledge is regarded. People are unsure about knowledge – scared of it being colonising western knowledge – and they are unsure what value knowing things has any more in a world where they are told everything will change and go out of date. This is nonsense of course but it can sound convincing. So, if we can't be sure about what to teach then we can focus on pedagogy and ideas such as generic skills, learning how to learn, and all that jazz and bling.
Who should decide what knowledge is included in a knowledge-rich curriculum?
Well, this is a big question that needs to be collectively decided. But at a certain level it should be guided by subject experts such as philosophers of education and academics who study knowledge and learning. We wouldn't expect non-experts to decide the curriculum of medicine or engineering, so we do need this to lead by expert. Sadly, in my opinion, not even many educationalists understand the structures of knowledge and how we need the special affordances of academic knowledge because of the power of its structure.
What do you wish teachers knew / were doing in relation to knowledge in their teaching?
I think teachers need to put knowledge back at the centre of their concerns. For example, deep learning comes from making connections between facts and then concepts. We can't do the higher order things in our brains without raw material to attach it to – then we learn to categorise and generalise. Also, we learn key competencies through engagement with knowledge – not in a generic way. This is why the idea of key competencies can be misleading. Disciplinary knowledge comes first and then the ability to think critically, problem solve, think creatively, and be adaptable etc. I would make the same criticism of inter-subject learning. You solve a problem or carry out a project without some disciplinary knowledge to bring to the table – that is why project learning can be a waste of time if it is not very carefully scaffolded by the teacher. Once teachers understood knowledge better – how it is structured – then they would be in a better position to choose the best pedagogy. At the moment the cart is before the horse!