By Dr Nina Hood
In February this year The Education Hub set out to explore the most significant teaching and learning challenges (or problems of practice) faced by teachers in New Zealand schools which, if addressed, have the greatest potential to ensure equitable outcomes for students. We embarked on this work primarily to ensure that we were targeting our support for schools and teachers on teaching and learning issues that really matter to them. However, we also thought that the findings would provide an interesting snapshot of thinking in the sector.
The study was composed of two rounds (more detailed information about the methodology can be found at the end of this article). The first round asked educational experts to identify what they considered to be the most significant teaching and learning challenges faced by teachers in New Zealand schools. From their responses we identified 14 problems of practice, which formed the basis of round two, a survey to teachers and school leaders. We received 178 responses to the survey, 80 from primary and intermediate teachers and 98 responses from secondary teachers.
Findings
Participants rated each problem of practice on a 4 point scale from 1 (not a priority or area of need in my school or practice) through to 4 (a high priority or area of need in my school or practice). The table below ranks the items from the greatest priority through to lowest priority.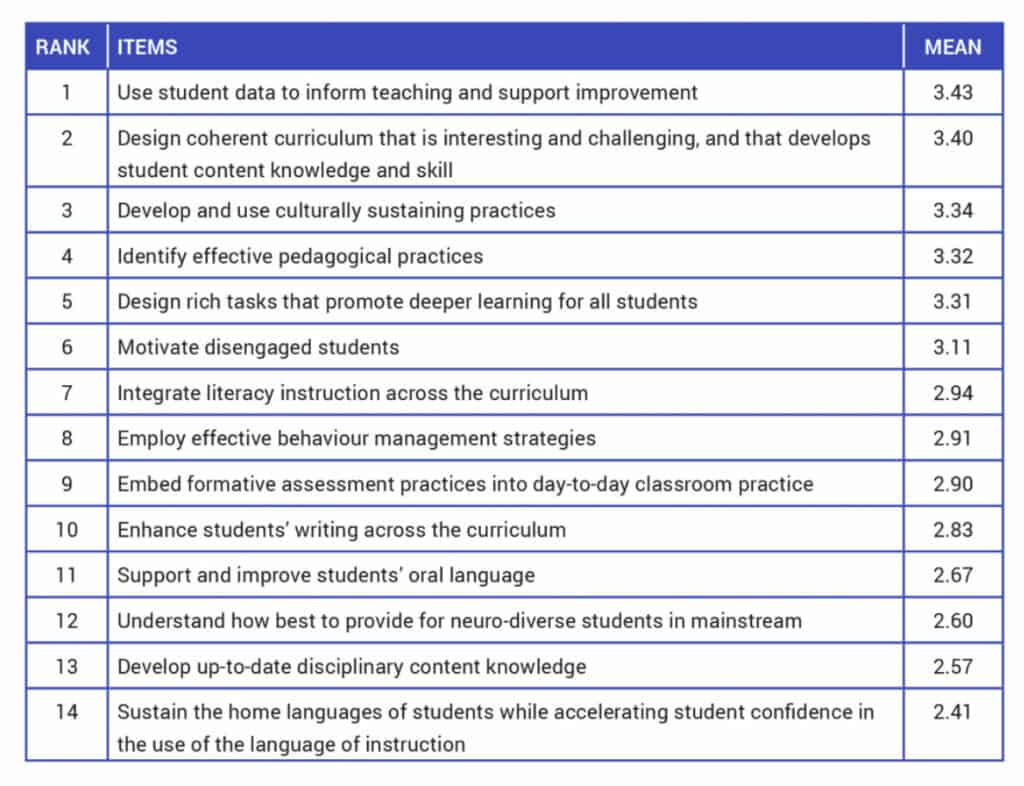 We examined whether there were any differences between different groups of teachers. At a descriptive level, the means for all items were higher for the primary/intermediate sector than the secondary sector (a * in graph 1 indicates a statistically significant difference), suggesting that they considered the areas to be a higher priority. There also were some minor differences in the priority order of items between the two sectors.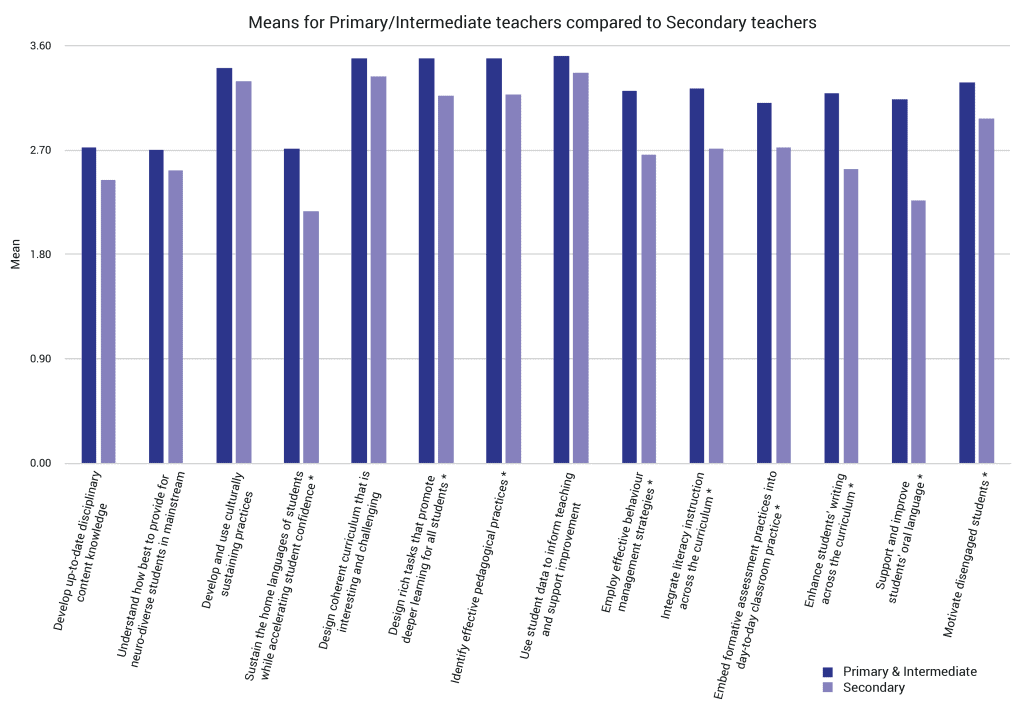 The findings also showed that teachers with more than 20 years of experience rated Design rich tasks that promote deeper learning for all students and Identify effective pedagogical practices with [statistically significant] higher priority than teachers with less than 6 years of experience.
Teachers in the South Island rated Develop and use culturally sustaining practices and Sustain the home languages of students while accelerating student confidence in the use of the language of instruction with [statistically significant] higher priority than teachers in both Auckland and the North Island excluding Auckland. Teachers in the South Island also rated Support and improve students' oral language with higher priority than teachers in areas of the North Island excluding Auckland.
At the end of the survey, participants had the opportunity to identify additional priority areas. The most common identified were, from most frequently identified to the least were:
focus on the whole child including creativity and student agency
21st century skills
student and staff wellbeing
teacher-student relationships
digital technologies
numeracy
cultural responsiveness
supporting diverse learners
whānau engagement
teacher professional development including teaching as inquiry
Reflecting on the findings
The areas identified as being the highest priority areas by teachers also were the primary areas focused on by the educational experts who participated in the first round of this study. They also reflect areas that have received considerable attention recently in educational discussions in New Zealand. Below, I explore the top priority areas, drawing on some of the [anonymised] responses from the experts from round one to provide greater detail and context.
Data use
Data use in schools has received considerable attention over recent years. It involves the collection and analysis of data in order to understand student achievement and progress across a variety of areas and indicators as well as the ability to utilise this analysis to inform ongoing improvement work at the individual teacher, departmental or syndicate, and whole school level. Therefore, to occur effectively it requires expertise at the teacher but also crucially at the leadership level, to ensure that all teachers are becoming "rigorous, data-driven evaluators of their teaching", as one of our responders described it.
Data use currently is complicated by a range of factors. Firstly, it requires considerable knowledge and expertise, which is not consistently found in all schools. Secondly, it requires time for teachers to work collaboratively to analyse and identify next steps based on their analysis of the data. Thirdly, effectively utilising data requires schools to have the infrastructure to easily collect and analyse the data. And while there are a number of initiatives currently underway to develop these sorts of systems, they are very much in their infancy. And fourthly, as one of our participants explained:
Meanwhile an emphasis on "making progress" has gathered momentum in recent years (especially since National Standards were scrapped) and there is no simple and evident way to use the curriculum achievement objectives for the purpose of consistently and defensibly describing each student's progress over time. Being required to do so by many BOTs has created huge stress, especially for middle leaders.
As this quote explains, measurement in education is complicated by questions of how to reliably measure the different aspects of achievement and progress that we value. There is a gap in education between what we can more easily (and rigorously) measure – things such as progress in mathematics, reading and writing – and the full range of valued outcomes that schools and our education system more generally aspire to develop in students. At times, education has fallen into the trap of what educational philosopher Gert Biesta terms normative validity. That is, rather than measuring what we value, 'we are just measuring what we can easily measure and thus end up valuing what we (can) measure' (Biesta, 2008).
Measurement further is complicated by the need to balance measurement for accountability with measurement for improvement. There is plenty of research evidence demonstrating how poorly constructed accountability systems can create perverse incentives and unintended consequences in education, most notably a narrowing of the curriculum. However, this does not mean that there is no accountability system in education.
The curriculum and rich tasks
Teachers rated designing a coherent curriculum as the second highest priority, which reflects concerns The Education Hub has previously raised regarding the New Zealand Curriculum. In its current form the NZC relies heavily on individual teachers (or in some cases schools) being expert curriculum designers. This is problematic because, as the teachers in our survey suggest, designing a coherent curriculum is an incredibly complex undertaking. It requires considerable knowledge and expertise as well as a substantial amount of time. It requires an understanding of how conceptual knowledge develops both within and across learning areas, over time and at different stages. A curriculum further requires curriculum materials and resources. As I previously have discussed (here and here), the design and nature of these materials and resources impacts the learning that takes place. However, with a local curriculum (as the NZC is), there is little consistency or quality control over the design and development of curriculum resources and materials.
These ideas were reinforced by participants in round 1 of this study. As one participant reflected, "teachers are required to invent every lesson of every day without any prescription and little guidance". A second participant (who has been heavily involved in the design, implementation and evaluation of the NZC) stated:
Teachers need much more concrete and specific curriculum support. "Second tier" resources that would provide this support were promised when NZC was first introduced but did not eventuate in substantive numbers or within any systematic roll-out plan (with the possible exception of support for school leaders). Schools were expected to reconcile the intuitive (but non-specific) relationship between the back and front halves of NZC, and this has proved to be a much more complex undertaking than was envisaged in the early days of the curriculum change. With hindsight, expecting every school to develop a coherent compelling local curriculum with minimal support was for too ambitious. Recent analysis and research has revealed flaws in the way content is specified in the curriculum.
The flow on effect of this, rated as the fifth priority area by teachers, is related to the design of rich tasks that promote deeper learning for all students. This relates both to teachers requiring a "comprehensive and deep knowledge of the essential learning areas" as well as a clear understanding of the sorts of tasks that are cognitively complex and sufficiently challenging for their students. In line with Richard Elmore's (2012) contention that task predicts performance, together with research from New Zealand which has demonstrated the substantial variation in opportunities to learn across New Zealand classrooms (see for instance Wilson et al, 2016 and Rubie-Davies, 2014), a focus on creating complex and challenging tasks is critical.
Effective pedagogy
Identifying effective pedagogy was rated as the fourth highest priority. On one level, this ranking is surprising given the wealth of research over the past 20 years exploring the most effective pedagogical approaches together with the growth in the science of learning literature, which [in theory] explores how to translate the theory of how people learn into effective pedagogical approaches. However, it perhaps in part reflects the issue of knowledge translation in education. Teachers not only need to know what the research says about how people learn and effective pedagogical practices, they also need to know how to turn this knowledge into action in their own classroom contexts. There is gap between knowing what one should do and actually knowing how to do it (although some would argue that knowing what is not yet commonplace across the whole teaching profession). Too often in education, teachers lack the level of specificity and direction for exactly what to do within their practice. As another participant suggested, "teachers need to see what such pedagogies should look and sound like – in clear, practical detail – and they should have sufficient advisory support".
Culturally sustaining pedagogies
The high prioritisation given to developing and using culturally sustaining practices perhaps also reflects the knowing-doing gap that is present in the implementation of effective pedagogies. As New Zealand classrooms have become increasingly diverse, over the past twenty years there has been increasing recognition across the education system of the importance of culture in students' experiences of school as well as more specific teaching and learning practices. Russell Bishop (a central figure in culturally responsive research and practice in New Zealand) has suggested that, over the past few decades in New Zealand, teachers have made important steps towards changing their theorising of students and rejecting deficit explanations for students' learning difficulties. However, currently too few teachers are able to routinely implement the pedagogies that are essential for bringing about changes in student outcomes.
Where to from here?
There are no easy answers to such a question. Nearly all of the problems of practice included in this study are perennial challenges in education. As the brief discussion of the top five priorities has demonstrated, the factors underpinning these challenges are complex. Similarly, the differences in how different groups of teachers are experiencing some of these challenges adds a further layer to negotiate. There is something interesting in the finding that teachers with 20 or more years of experience rated design rich tasks that promote deeper learning for all students and identify effective pedagogical practices statistically significantly higher than teachers with less than 6 years of experience. The current study does not provide evidence to explain this finding, but given the importance of both these areas, it is worth exploring further.
From The Education Hub's perspective, there are several things we are planning to do in order to continue the dialogue and discussion occurring on these areas as well as hopefully working to advance progress towards addressing them. We will continue to produce research reviews for teachers, including, in 2021, reviews on the curriculum and learning areas as well as measuring progress and data use in schools. We also will be launching a new initiative focused on capturing and disseminating proven models of existing and established effective practice in New Zealand schools that are informed by research. That is, enabling teachers to see what effective instruction actually looks like in the classroom. And finally, we also will commence a project examining how the design and implementation of the curriculum together with the types of tasks students undertake on a daily basis are influencing their opportunities to learn in New Zealand schools. While none of these initiatives on their own will be enough to combat the problems of practice identified in this study, we hope that, along with others working on these areas, it will be possible to increasingly support teachers in their practice.
Appendix – more detailed [but still brief] methodology
The study comprised two rounds. The first round asked 78 educational experts to identify in writing the most significant teaching and learning challenges faced by teachers in New Zealand schools. Our definition of "expert" in this study was people who were involved in school-level education but were not currently working in schools. It included researchers in universities and other institutions, professional development and other education consultants, employees at the Ministry of Education as well as other educational institutions including the Teaching Council, ERO, and the NZEI and PPTA. Responses from 20 participants were received (all but one participant consented to having their name listed as having participated) [see appendix x for specific wording and list of participants].
A thematic content analysis was undertaken of the 20 written responses in order to identify the problems of practice. A list of 14 problems of practice was developed from the analysis and used to form the second-round survey. Participants rated each problem of practice on a 4 point scale from 1 (not a priority or area of need in my school or practice) through to 4 (a high priority or area of need in my school or practice). There also was an opportunity for participants to identify any additional problems of practice in an open response box at the end of the survey. The survey was disseminated through The Education Hub's mailing list and social media channels. 178 responses were received, 80 from primary and intermediate teachers and 98 from secondary teachers. 21 had less than 5 years' experiences, 26 between 6 and 10 years, 59 11-20 years and 72 more than 20 years.
Results were analysed initially using basic descriptive statistics enabling the ranking of items (problems of practice). Mann-Whitney U tests were conducted to examine which items differed significantly (p < .05) by sector. Kruskal-Wallis tests were conducted to determine if the ratings for any items were significantly different by teaching experience, while post-hoc Dunn tests with Bonferroni correction were conducted to examine which specific experience groups were significantly different. Kruskal-Wallis tests were conducted to determine if the ratings for any items were significantly different by geographical location (Auckland (n = 57), North Island – elsewhere (n = 76), and South Island (n = 45)) and post-hoc Dunn tests with Bonferroni correction were conducted to examine which specific geographical locations were significantly different. Finally, the 73 open responses were coded into topic domains (and subdomains where applicable).