Welcome! We're so glad you have joined us for this short course on early childhood assessment and intentional teaching. The course starts on June 28, but you are welcome to read the important information below in advance.
Please register now for the introductory Zoom webinar.
When: Jun 28, 2021 08:00 PM Auckland, Wellington
Topic: Start of course webinar – Assessment and Intentional Teaching
After registering, you will receive a confirmation email containing instructions about joining the webinar. If you have any queries in the meantime, please do not hesitate to contact us.
---
Accessing the course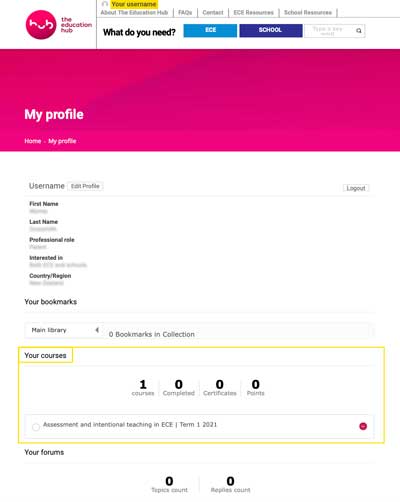 When you want to access this course, you can do so via your Profile page on our website, as shown opposite, below the Your bookmarks section. To access your Profile, either choose Log in next to The Education Hub logo at the top of the website, or click on your user name in the same location if you are already logged in.
Please note, the course is best used on a laptop, tablet or desktop computer, and is not optimised for use on mobile phone.
If you have any technical issues, please email us.
---
The course has a strong focus on understanding the nature of quality in assessment in Early Childhood Education (ECE), and on helping you to engage in high-quality assessment practice that supports you to notice, recognise and respond to children's learning in intentional and meaningful ways.
There is also a strong practical component to the course, and you will be supported to observe, assess, and intentionally plan for learning within your own setting.
The course comprises three modules, and each module is organised into parts. Each part is estimated to be about one hour's work, not including additional tasks that you will complete in your early childhood setting. Please work your way through each module in order, using the Complete buttons to keep track of your progress.
You will find the following elements throughout the course:
Videos to watch and readings to introduce key ideas.
Questions for reflection, to help you engage as much as possible with the course content. Some of these might be personal, written reflections that you complete on your own, and others will invite you to find a colleague at work with whom to engage in professional discussion, using our reflective questions as a prompt.
Activities, such as evaluating and writing learning stories, so you can apply what you are learning about assessment and intentional teaching.
Online discussion boards for each module, in which you can share some of your experiences, thoughts and reflections with other course participants. We hope you'll benefit from hearing each other's ideas.
In the last section of the course, we will ask you to provide feedback on your experience. As you go through the course, please note any issues or mistakes, and include those in your feedback to help us to refine the course experience. If you have any questions, please do not hesitate to contact us.
We look forward to working with you.